A Community of Friends
"It's hard to have a bad day in a pink house," it's said, with a wink and a smile and the enduring Marrakesh wave — a phrase repeated by residents since our club's inception. The warmth and welcome of Marrakesh are nearly as legendary as the famed architecture. We are a diverse community of active, vibrant, and close-knit neighbors who engage in social, recreational, and intellectual activities, gather at weekly happy hour, and share in events together year-round. Our club offers a uniquely sophisticated setting that appeals to architecture aficionados who embrace art, culture, and design and who aspire to live meaningfully;
it's a place where lifelong friendships are formed and generations thrive.


A Premier Locale
Framed by the desert's natural wonders, the Santa Rosa and San Jacinto Mountain ranges, Marrakesh is in Palm Desert off Highway 111, south of Portola, and mere minutes by car or golf cart from El Paseo —
home to world-class dining and shopping, The Living Desert Zoo, and several popular hiking trails.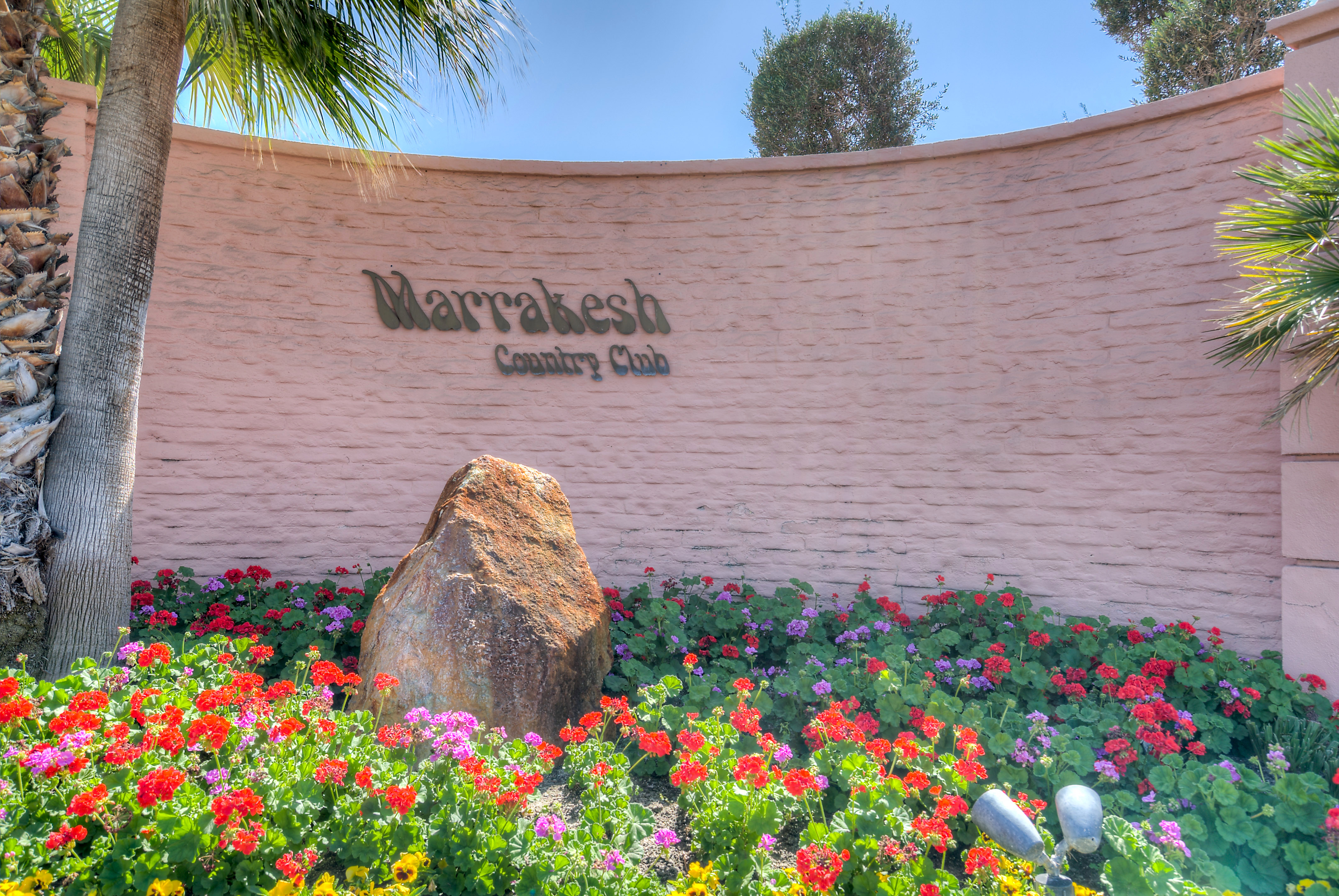 Discover the Magic
Learn more about dress code, club guidelines, and other information for your visit.

History
It began with legendary club developer Johnny Dawson (Eldorado, Thunderbird Country Clubs) and his vision for an unrivaled desert community, accessible yet exclusive in a setting unlike any other. Inspired by the walled city in Morocco that glows pink as the sun sets each dusk, the moment he laid eyes on the untouched landscape set amid stunning desert mountains, he knew he had found the spot.
Dawson gathered the best of the best in John Elgin Woolf, the definitive Hollywood Regency master known as the first postmodern architect on the west coast, Richard Harrison of famed Palm Springs modernist firm Wexler & Harrison for completion of the clubhouse, and Ted Robinson, one of golf's most celebrated course designers.
The culmination of the bespoke natural desert setting, the unsurpassed pedigree of the team formed by Dawson, and the stalwart resident stewards of that legacy, have created a singular and enduring club.

Membership
Become a Part of Something Special
Marrakesh Country Club is a private, member-owned club. Full Membership is associated with residential ownership in Marrakesh. Application for membership is part of becoming a resident and limited Non-Residential membership, based on member sponsor.